With the beginning of spring just around the corner, the weather is heating up, and we are preparing for longer days. The warmer weather presents the perfect driving conditions for motorcycles. As you can imagine, motorcyclists are not the only drivers hitting the roads in greater numbers during warm weather conditions. All types of passenger vehicles will increase the frequency in which they travel during the summer months. The extra traffic along the roadways drastically increases the likelihood of accidents to occur.
Accidents involving motorcycles are far different from other motor vehicle accidents. These two-wheeled vehicles are much smaller and far less visible than most other vehicles on the roadway. Additionally, motorcycle drivers do not benefit from the hard exterior body for protection as with most other vehicles.
As a result, accidents involving motorcycles have an increased risk of resulting in serious and catastrophic injuries or death. The federal government estimates the death rate of motorcyclists is up to twenty-six times greater than drivers of cars. If you are injured in an accident, or your loved one was killed, due to a negligent driver, it is imperative to contact Siegfried & Jensen as soon as possible. You may be able to recover compensation for your injuries.
Motorcycles Are More Vulnerable Than Other Vehicles
When sharing the roadways with motorcycles, it is imperative to remember that the compact size and lack of protection make motorcyclists more vulnerable than drivers in other vehicles. In addition to being caught in the blind spots of negligent drivers, motorcycles are uniquely susceptible to dangers caused by poorly-maintained or defective roadways. These accidents often occur due to negligent or inadequate roadway maintenance. Potholes and other roadway defects may be easy for automobiles to drive over, but for motorcyclists, it can be fatal.
Motorcyclists often take additional precautions before hitting the roadways to ensure they remain safe. They wear protection, like vests and helmets, and they obey the traffic laws fairly well. Unfortunately, motorcyclists cannot stay safe on the roads without the help of other drivers. All drivers have a legal and moral responsibility to pay attention to motorcyclists on the roadway. It is important to recognize that motorcyclists have an equal right to share the roadway.
Negligent Drivers On The Roads
When the driver of an automobile fails to pay attention to others around them, they can cause a serious accident to occur. Accidents involving motorcycle riders are often more severe in nature simply because they lack adequate protection to safeguard them against vehicles weighing thousands of pounds.
When a motorcyclist is injured in an accident caused by a negligent driver, they may be able to recover compensation for their injuries. Quite often, it is in a motorcyclist's best interest to hire an experienced attorney who they can work alongside to ensure a full and fair amount of compensation is awarded.
Common Injuries For Motorcyclists
Due to the increased vulnerability of motorcyclists on the roadway, these drivers are at risk of sustaining more severe and life-threatening injuries in accidents. Some common injuries sustained by motorcyclists include:
Traumatic Brain Injuries: Although motorcyclists wear helmets, concussions and traumatic brain injuries can still occur due to impact. These injuries can cause motorcyclists to experience hearing or vision loss, constant headaches, and pain. Unfortunately, traumatic brain injuries can be life-threatening and often result in the development of mental health conditions.
Spinal Cord Injuries: Spinal cord injuries can drastically change a motorcyclist's life. Not only are these injuries extremely painful, but they often result in temporary or permanent paralysis. These injuries dramatically impact a person's quality of life and limit their ability to function.
Broken Bones: Motorcyclists are at an increased risk of sustaining broken legs or arms in accidents. Some breaks can be minor, while others may require extensive surgery or amputation. Breaks can cause motorcyclists to experience constant pain and may require screws, bolts, or rods to hold the bones together permanently.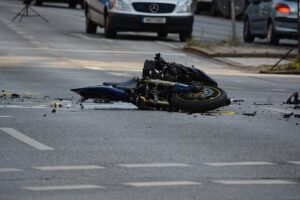 Scrapes and Abrasions: Motorcyclists who are thrown off their bikes often sustain scrapes and abrasions from sliding across the asphalt. These injuries can be extremely uncomfortable, and pain can last several weeks.
Neck Injuries: Whiplash and neck strains are extremely common injuries for motorcyclists in accidents. These injuries often cause constant pain that drastically limits a motorcyclist's range of motion, and can have both short-term and long-term impacts on a person's health.
Internal Injuries: Although motorcyclists often wear vests to protect their bodies, this amount of protection is not able to withstand the impact of another automobile. Motorcyclists often suffer internal injuries to their organs which can be serious and life-threatening. Injuries to the liver, heart, lung, kidneys, spleen, or bowel often require emergency surgery to address.
Back Injuries: Motorcyclists commonly sustain back injuries in accidents. These injuries can be extremely painful and debilitating. Injuries to the vertebra or discs along the back can drastically limit a person's ability to lift, remain in certain positions, or function in the same way as before their accident.
Hire A Utah Attorney To Help Recover The Maximum Amount Of Damages
Motorcyclists injured by negligent drivers are able to recover compensation for the damages they sustain. Damages such as lost wages, medical expenses, loss of earnings, pain, and suffering, as well as punitive damages can be awarded to motorcyclists who are injured by others along the roadways.
In order to maximize the amount of remuneration you recover, it is imperative to hire a personal injury attorney to assist you with your claim. At Siegfried & Jensen, we work diligently to ensure the rights of accident victims are protected. We help injury victims obtain the most reimbursement they are entitled to for their injuries. Siegfried & Jensen assist victims in filing their claims, gathering evidence, speaking with witnesses, and negotiating fair and full settlement amounts with insurance companies.
Contact Siegfried & Jensen today to schedule a free consultation. We are dedicated to helping all accident victims recover compensation and justice from at-fault drivers.