There is no surefire way to prevent automobile accidents. You can drive as attentively as you are able, limit your distractions, obey the speed limit, yield to your fellow drivers who have the right-of-way; but none of that matters when someone can run a red light and smash into the side of your car without so much as a warning.
That's when insurance is supposed to come to the rescue. We pay the additional costs for insurance because it offers assurance that, when one of those out-of-your-control moments happens, we will be protected.
And then the nightmare scenario occurs – you get in an automobile accident with someone who is uninsured. Your car is damaged, you might even be injured, and you don't have the money to pay for either. Now, what do you do?
As scary as this situation might be, there are steps that you can take to smooth the process along as best as you can, one of which would be contacting a group of Salt Lake City attorneys.
Stay Calm
Something that's easier to say than to do, especially after a harrowing, possibly financially catastrophic, automobile accident, but it can make a world's difference when staring down the barrel of the situation sketched out above.
Panic will only make the situation worse. It will make your judgment cloudy, possibly leading you to not taking the proper steps necessary to help yourself, or maybe even cause you to make the situation worse.
Instead, take a moment to calm your mind. Remind yourself that your feet are still touching the ground, that your heart is still chugging along, and that you are still here, that the accident could have been much worse for you and everyone involved. Take some deep breaths, in through your nose, out through your mouth, and get yourself calm.
Call the Police
Your next step after the accident should be to call the police. This should be your priority after an automobile accident, catastrophic or not. It is especially vital when the other person involved in the accident doesn't have insurance.
Contact the police and be as cooperative with them as you can. The police report will come in handy when filing a claim, or if the incident has to go to trial.
Even if the damage from the accident appears minimal or insignificant, your best bet when dealing with someone uninsured is to call the police.
Exchange Contact Information With the Other Driver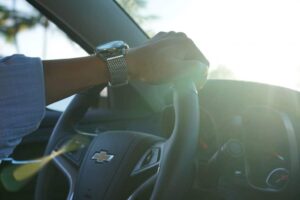 It is especially important when you get in an accident with an uninsured driver that you exchange as much information with them as you can. Get their name, home address, phone number, driver's license number, vehicle registration, and license plate numbers.
Do the same for any nearby witnesses to the accident. You should also get them to describe the accident to you as well. Having a clear, succinct witness testimony on your side could be your saving grace if you end up having to go to court over the incident.
In a worst-case scenario, the other driver might flee the area. In that case, a witness might be just what you need, as they may have seen some details about the other driver that you could have missed.
Take Photos and Videos
After any kind of automobile accident, especially the ones where the other driver is uninsured and at fault, you should get as much information and proof of the at-fault driver's culpability as possible.
If the case must go to a trial or court, having tangible, concrete evidence of the other driver's fault will do you wonders. Take photos and videos, from many different angles, of the aftermath of the accident, showing as much detail as you can.
While not entirely necessary, if it comes down to you needing some solid proof like this in court, you'll be much happier to have this than not.
Call Your Insurance Company
Contacting your insurance company should be your next move. Do it as soon as possible, but make sure you have the general sequence of the event thought out clearly in your head, so your insurance company won't have any reason to doubt your telling of the accident.
Some insurance coverages come with uninsured motorist coverage, and if you just so happen to be so fortunate as to have that coverage, your insurance will cover a massive amount of the damages to your vehicle.
If you do not have this type of coverage, your insurance company will be able to explain to you your options and give you a clue as to what steps you should take going forward.
Get Medical Care and Attention
If you are injured, get to a doctor or hospital as soon as you can. Having your injuries clearly and immediately documented will help you in court if it comes to that. Even if it only appears to be a minor injury, getting a medical examination is in your best interest. Some conditions take days before symptoms manifest, and you don't want to be left dealing with the consequences of not knowing how to take care of yourself.
If you have uninsured motorist insurance, health expenses for the doctor's visit and any possible procedures or medicines you might need will be covered, as well as any lost wages or compensation that you might be owed.
Take Care of Your Car
Uninsured motorist insurance should cover most of the damage done to your car. At the very least, it should help you pay for a new vehicle if your car was totaled entirely in the accident.
Talk to your insurance agent about what possible steps forward you should take, especially if you don't have uninsured motorist insurance. You will need some form of transportation, whether a new vehicle or using ridesharing services in the interim period.
The Help You Need In Salt Lake City
A lot of bad things can happen on the road, and one of the worst-case scenarios is getting in an accident with someone who is uninsured, especially when the accident is entirely their fault. It can be a scary situation to be in, but you don't have to go through it alone.
Get in touch with the Utah automobile accident lawyers that can give you the help and legal support that you need after such a stressful event. With over 30 years of experience dealing with similar situations, Siegfried & Jensen can help you navigate these murky legal waters, and get you the financial compensation that you might deserve.