After being involved in a traffic accident, it is fairly normal to look to friends and family members for advice on what to do and what not to do. Occasionally, someone who has been in a car crash before may actually have a sliver or two of genuinely good advice to give you. This form of crowdsourcing information, however,  can also end up being extremely detrimental to any insurance or legal claim you may try to make.
Unfortunately, most people offer up advice based on something they heard from a friend or read on the internet but never actually looked into for themselves. This can, and usually does, result in well-intentioned, bad advice. With everything that is at stake when it comes to a car accident, this is no time to rely on Buzzfeed's article "10 Things You Never Knew About Tricking Insurance Adjusters". You need real advice from someone who is in a position to be giving it.
If you or someone you love has been in a car accident, you are going to want to seel legal representation as soon as possible. A licensed, qualified Utah car accident attorney will be able to tell you in absolute terms what you can expect to happen, and what steps, if any, that you need to take next.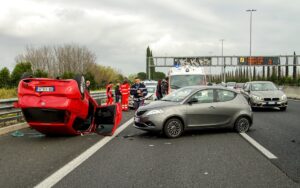 Misconception #1
All Auto Injury Laws Are the Same No Matter What State You Are In
Agencies that are run by the state regulate car insurance rates. This means that every state has its own set of car accident and injury laws. As if car insurance wasn't already difficult enough to understand, it will somehow suddenly seem 3476% more complex and frustrating when you actually need to use it.
Some states have at-fault insurance laws, while still others, like Utah, have no-fault insurance laws. Some states go so far as to demand that the insured party to purchase supplementary liability insurance, while others states do not require this additional purchase. If you are ever involved in a car accident, even if someone else was found to be at-fault, insurance could easily become extraordinarily complicated if the accident took place in a state other than the one you live in.
Misconception #2
It Was a Small Accident so it Doesn't Matter if I Leave the Scene
No, just… no. The law in Utah requires anyone involved in any sort of auto accident to immediately pull over to the side of the road and remain at the scene until law enforcement has arrived or instructed you to do otherwise. Even if the accident doesn't appear to have resulted in any property damage or injuries, fleeing the scene of the accident could spell misdemeanor charges for you. If someone has been injured or killed, you are most certainly looking at felony charges.
If you are ever in a non-injury accident, the next steps that you take should be:
Pull over immediately and check for injuries to you or your passengers

If the other car does NOT pull over, do your best to write down as much of their information as you can, such as car make, color, license plate number, driver description, etc.

Call the police, even if you know that the other party has already called them. Call again anyways

Exchange your contact and insurance information with any other drivers involved

Take as many photos of the damage to cars, people, and of the crash scene as you can. Even things like skid marks and potholes could be relevant. The pictures will also help to establish the time, date, and location of the accident as well as to preserve crucial evidence

Make a thorough and honest statement to the police when they ask, but never ever admit fault, apologize, or make any type of assessment regarding who was at fault or why

If there are any witnesses, get their contact information and do your best to get them to hang around so that they can give statements to the police as well

If you plan to file a claim you will need to notify your insurance carrier of the accident within 24 hours

Either go to the emergency room or make an appointment for ASAP with your regular doctor so that they can check for any injuries you may have sustained during the accident. Not all injuries are immediately apparent. Some, such as whiplash, can take days to become noticeable

If you have been injured,

contact a qualified Utah personal injury attorney
If you end up filing a claim and working together with a personal injury attorney, these steps will save you both a lot of time and disappointment in the long run.
Myth #3
I Don't Need to Hire an Attorney Because My Insurance Will Take Care of Everything
Regrettably, the fact that you send your auto insurance premium in on time every single month does not mean your insurance company is your friend. Adjusters might not feel like your claim is worth taking on if it looks like it will soak up too much of their resources and their time. This line of thinking on their part could very well leave you without a vehicle, with extensive medical and mechanic's bills, and no clear answers in sight.
The actual answer to this predicament, should you find yourself in it (and you will), is to contact an experienced personal injury attorney. If you have a qualified, diligent attorney working on your behalf, you can be certain that you have someone on your side who will help you get the justice and the compensation that you deserve.
If you or someone that you love has been injured in a car accident then these basic bits of advice are the kind that will actually be helpful to them. Following these will help to ensure that you are doing the right thing at all times by following the law and some other common sense steps so that, if you choose to do so, you are able to file a valid personal injury lawsuit later on. The personal injury attorneys here at Siegfried & Jensen have over thirty years worth of experience in helping victims recover from life-changing auto accidents and making sure that they collect the maximum amount of financial compensation for their losses. Our clients are our family and we always do our best to get what is best for you. If you would be interested in a free consultation with one of our personal injury attorneys regarding your case, then please reach out to us by calling 801-845-900 today.