Although any car accident can be severe and devastating, accidents involving semi-trucks are often catastrophic. Semi-trucks can weigh ten times as much as other vehicles on the road. Most passenger vehicles do not stand a chance in accidents with semi-trucks due to their sheer size and weight.
Unfortunately, many accidents involving semi-trucks are caused by the same factors over and over again. There may be little that anyone in passenger vehicles can do to avoid these accidents. However, being aware of the potential causes for semi-truck accidents may allow you to spot the problems before they affect you on the roadway. If you are ever involved in an accident with a negligent semi-truck driver, it is crucial to contact Siegfried & Jensen as soon as possible to protect your legal rights.
Common Causes For Semi-Truck Accidents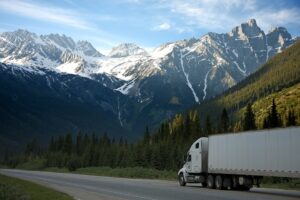 There are several common causes for semi-truck accidents across Utah. Learning what to look out for may save your life on the road.
Driver Decision Error
This is the leading cause of truck accidents across the United States. These accidents happen when semi-truck drivers make poor decisions on the roadway. They may be driving too fast for the road or weather conditions, misjudge the distances between their vehicle and others on the roadway, or they may follow other vehicles too closely. It takes more time and effort to stop a semi-truck, so driving too close to vehicles ahead is endangering others on the roadway.
Recognition Problems
Quite often, truck drivers fail to notice dangerous situations and circumstances surrounding them. This can lead to drivers becoming distracted behind the wheel. Truck-drivers who engage in texting or talking on the phone, change the GPS or radio systems, or eating may take their eyes off the road for very short periods. Unfortunately, there are numerous reasons why truck-drivers fail to recognize hazardous situations along the roadways.
Non-Performance
The Federal Motor Carrier Safety Administration (FMSA) found that non-performance issues caused over 12% of all semi-truck accidents on the highways. Non-performance is a term used to describe drivers who were not capable of controlling their vehicles at the time of the accident.
Some of the most common non-performance issues for truck drivers include driver fatigue or falling asleep, suffering a seizure, heart attack, or other disabling health condition, or any other reason a driver would be physically inhibited to drive.
Performance
According to FMSA, another 9% of semi-truck accidents were caused by performance issues. Performance issues include drivers over-correcting or over-compensating an error while driving. This includes panicking behind the wheel or using bad directional control of their vehicle.
Other Common Factors
Although most semi-truck accidents are caused by driver error, it is crucial to recognize that there are a wide variety of different factors that may contribute to a crash. These factors may contribute to a situation where semi-truck drivers have problems reacting or responding while behind the wheel. Unfortunately, they are not usually the sole cause of the accident. Some other factors for semi-truck accidents include:
Loading errors;
Prescription or over-the-counter drug use;
Driver fatigue/drowsiness;
Unfamiliar roadways;
Unkempt roadways; and
Traffic interruptions/flow problems.
Unfortunately, the same factors that affect semi-truck drivers can affect passenger vehicles on the roadway as well. The consequences of semi-truck accidents are often more severe due to the size and weight of these vehicles, combined with the fact that they are much more difficult to control.
If you are injured in an accident caused by a negligent semi-truck driver, it is crucial to contact a personal injury attorney as soon as possible. You may be entitled to financial reimbursement for your damages and injuries.
Recoverable Damages In Semi-Truck Accidents
Individuals who are injured in semi-truck accidents may be able to recover compensation for their injuries and damages. Some of the most common awards for damages in Utah include:
Lost Wages: Accident victims can recover compensation for lost wages related to surgeries, doctor appointments, or being forced out of work with permanent injuries. In some cases, a financial expert is needed to calculate how much a victim would have made throughout their lifetime.
Pain and Suffering: Going through a traumatic accident and sustaining injuries can have a major impact on a victim's life. The courts recognize the physical and emotional struggles accident victims face, which is why they allow accident victims to recover compensation for their pain and suffering. It is difficult to calculate a price for a person's suffering, but working with an attorney will ensure the court has the best idea of how much your injuries impact your life.
Medical Expenses: Being involved in an accident often means you will have to undergo medical treatment. Whether you have to go to the emergency room, follow-up appointments, have tests or surgeries, or even go through months of therapy, you can recover compensation for these expenses. Individuals should not have to pay medical expenses for injuries caused by other parties, and our state courts agree.
Property Loss: Individuals who are involved in semi-truck accidents often sustain serious damage to their vehicles. Quite often, their vehicles will need repairs or they will be deemed totaled. When a vehicle is considered damaged beyond repair, drivers will need to recover compensation to purchase a replacement. Working with a personal injury attorney will ensure you recover the greatest amount of repayment to which you are entitled for your repairs or the replacement of your vehicle.
A Utah Semi Accident Lawyer Can Help You
Dealing with severe injuries following a semi-truck accident can be overwhelming, painful, and exhausting. Siegfried & Jensen understands the stress and turmoil accident victims and their families face in the aftermath of an accident, which is why we work so hard to protect their legal rights.
Individuals who are injured by negligent semi-truck drivers may be able to recover compensation for their injuries and damages. Although money will not take the injuries away, it can help alleviate some of the financial burdens your family faces from medical expenses and victims being out of work.
Contact Siegfried & Jensen today at (801) 845-9000 to schedule a free consultation. We will evaluate your case and discuss which legal options are available for you.