It is estimated by the World Health Organization that 180,000 deaths happen annually due to burns accidents and that burn injuries were the most common occurrence on the job site.
In the event that you sustain a burn injury while on the job or while performing a duty related to work, the qualified workers' compensation lawyers at Siegfried & Jensen are here to help review your claim and guide you on the best options you could take when seeking compensation for your damages resulting from the accident. You are able to have a free, no-obligation consultation to learn more about what to do to pursue your workers' compensation settlement.
What to Do After a Burn Injury
If you received a burn injury on the job, it is in your best interest to take immediate action to treat your injuries. If it is an emergency, directly seek care from a trained medical professional, or if the time allows, contact your regular medical provider in order to document your injuries.
Even minor burns can cause irritation, swelling, pain, without resulting in blistering. You can treat minor burns by:
Placing the affected area under cool, but

not cold

, water, which will help to reduce any swelling

Cleansing the area with mild soap and water

Applying antibiotic ointment, but only if the skin is unbroken from the burn injury

Preventing further agitation of the affected area by wrapping it loosely with a sterile gauze dressing
If you experience a severe burn injury, you should always seek immediate medical attention from a healthcare professional. Serious burns have the potential of causing blisters or discoloration of the affected area. The burned skin could be charred or take on a white or yellow coloration.
You may require hospitalization if the burns are particularly severe. This includes second and third-degree burns. Possible treatment could include relevant surgical procedure such as skin grafting.
You should always notify your supervisor in the event you receive a burn injury while performing a job-related duty or task.
Who Is Eligible for Workers' Compensation in Utah?
In the state of Utah, both part-time and full-time employees are eligible for worker's compensation in the event of a workplace incident resulting in injury. This includes burn injuries sustained while performing work-related duties.
However, independent contractors are not usually entitled to benefits from worker's compensation for workplace injuries because they are not usually considered employees of the company. There are times when workers are misclassified as independent contractors when they are actually regular employees. In this case, he or she would still be eligible for workers' compensation benefits.
Employees of the state in Utah are also eligible for worker's compensation benefits if they are injured while performing work-related duties. State employees are not allowed, however, to reject worker's compensation in the event of an accident.
Volunteers are not usually eligible for worker's compensation benefits after being injured performing their duties. However, there are some key exceptions to this rule. Volunteer firefighters, workers at licensed healthcare facilities, and those participating in emergency management training are included in the state's worker's compensation insurance coverage.
Receiving Workers' Compensation for Burn Injuries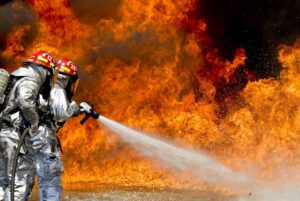 In order to receive worker's compensation benefits, you are required to file an injury claim. Your claim is required to be filed no more than a year after the date of your injury. If your claim is approved, you will be able to receive wage replacement benefits starting on the eighth day after the accident.
Medical expenses are also covered under workers' compensation. You may also be eligible for temporary total disability, permanent total disability, or permanent partial disability benefits, depending on how serious your burn injury is.
In the event your injury claim is denied, you are not able to appeal this decision. Claims are sometimes denied due to what the employer says about the circumstances of the injury. If the company claims that were not following reasonable rules or regulations, your claim may be denied.
If this occurs, you would need to request a hearing form to the Utah Labor Commission (ULC) to request a hearing with the Adjudication Division of the Labor Commission.
During the hearing, the ULC will listen to testimony, consider all evidence provided, and make a ruling on motions submitted. During this process, it is important for you to partner with a qualified workers' compensation lawyer in Salt Lake City to provide guidance and ensure that the case is presented appropriately.
The final decision will be sent to you once the ruling has been made. If you do not agree with the final decision, you can file a request for review within 30 days. If you do not file within the deadline, the decision from the ruling will be final.
Workplace Accidents in Utah
Certain jobs are prone to injuries, such as factory workers and construction workers. While performing the required duties at these jobs, employees can often be harmed on the job. Sadly, a high percentage of these accidents result in the death of the worker. When someone dies due to a workplace incident, they leave behind families who have to take on unexpected medical costs, funeral arrangements, and other damages associated with the incident. In some cases, surviving family members can partner with an experienced Utah workers' compensation lawyer to protect their legal rights.
For over 30 years, the Salt Lake City personal injury lawyers at Siegfried & Jensen have helped grieving families successfully win wrongful death lawsuits against a company or corporate entity.
We don't think people should suffer financially and emotionally because of an accident that wasn't their fault, and we hope to help many more victims with their personal injury lawsuits to gain justice after an accident. If a loved one has been taken too soon from the result of a workplace accident related to careless or negligent actions on part of the company, call the law offices of Siegfried & Jensen today at (801) 845-9000 to discuss your case with a qualified attorney and see what options are available for you.