When you are behind the wheel, you may have noticed certain signs and billboards stating "Click it or Ticket," encouraging the use of a seat belt while on the road. From drivers to passengers, the seat belt laws in Utah are applied to everyone who is traveling on the state's roadways. Under these laws, it is mandated that all vehicle occupants are required to use a seat belt. Also, children that are under the age of 8 years old are required to be buckled or secured in a booster seat. Here at the law offices of Siegfried & Jensen, we see that serious injuries can result from car crashes, and we want to help everyone on the road avoid being injured in an accident. This article is going to provide an overview of the seat belt laws in Utah and how to comply with these regulations. 
It is if a fact that seat belts can potentially save a life. Reports from Click it Utah even claim that nearly 100 lives are saved each year on Utah roadways directly due to seat belts.
What to Know About Seat Belt Laws in Utah
Under the Motor Vehicle Safety Belt Usage Act, the operator of a motor vehicle is required to "wear a properly adjusted and fastened safety belt." Even more, every child under the age of 8 is required to be in a child restraint device, such as a car seat. All occupants, regardless of their age, are required to wear a seat belt while in a vehicle. The driver has a legal responsibility of making sure that all occupants that are 16 years or younger are properly restrained with a seat belt.
Essentially, this means that a driver is able to be ticketed if a young passenger is not using a seat belt while in the vehicle. If you still have questions about how this law is applied, it can be accessed in full by clicking on the link provided above. It is important to be informed of your legal rights — and obligations — in order to protect yourself and your loved ones. 
Why Should I Wear A Seat Belt?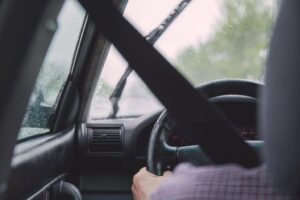 From a legal perspective, if you use a seat belt while in a vehicle, you can prevent possible tickets and fines. You could be issued a citation of $45 if you are found to be not wearing a seat belt. In the event that the citation was due to a child that was not properly restrained, the fine could be waived if you provide evidence that you have purchased the required child restraint device, such as a car seat.
Even if it is not legally required under the law, using a seat belt is still a smart idea. It makes sure that all occupants in the vehicle are safer in the event of an accident. Along with being potentially injured themselves, drivers who do not wear a seat belt and other passengers can potentially be ejected from the car if they are involved in a crash. This causes victims to become projectiles that can injure and possibly kill others who are in the vehicle. Unfortunately, there are reports that show 86 people died in 2016 due to not being properly restrained at the time of a collision.
What Could Happen If I Don't Wear a Seat Belt?
If you are not wearing a seat belt at the time of a collision, you could be injured severely as a consequence. These injuries can result in many negative repercussions, including physical and financial damages.
Increased Cost.

When those involved are not wearing a seat belt, car crashes can be more costly. Sustained injuries will likely be more serious, which can result in lengthier hospital stays and increased medical expenses. Even though wearing a seat belt may not prevent being harmed entirely, it will still help to reduce the amount of damage to your financial situation caused by your injuries. It is also likely that auto insurance premiums will increase due to a collision and its associated injuries. 
Legal Consequences.

If you fail to wear a seat belt in a car crash, it can impact your chances of a successful personal injury claim. You may be unable to recover the settlement you need to cover your damages if it is found that not using a seat belt significantly contributed to your sustained injuries. Utah is a state that practices comparative negligence. This essentially means that if you want to recover damages through a personal injury lawsuit, you have to be found to be less at fault than other involved parties. Not wearing a seat belt can result in you being considered at least somewhat to blame for your sustained injuries, even if you are found to be less at fault than others involved in the claim. To put it simply, if you are found to be 30 percent at fault for the injuries sustained, you will ultimately only be able to regain 70 percent of your potential damages. 
Unrestrained Passengers Accidents in Salt Lake City
Using a seat belt can potentially save lives. In fact, the National Highway Traffic Safety Administration (NHTSA) claims that seat belt use saved 14,955 lives in the United States in 2017 alone. Protect yourself and your loved ones from being seriously injured by encouraging seat belt use. 
When occupants of a motor vehicle choose not to wear a seat belt, they are likely to sustain more severe injuries than they would have if they had been wearing one. In certain cases, victims of these accidents are able to partner with an experienced Salt Lake City car crash attorney in order to protect their legal rights and regain lost compensation associated with the incident. 
For over three decades, Siegfried & Jensen has been helping the residents of Utah recover after being injured in an accident due to a negligent party. Contact our law offices today at 801-845-9000 if you or a loved one has been injured by a reckless driver, and you can discuss your claim with a qualified legal professional.