Unfortunately, car accidents are a leading cause for serious injuries and even death. Your life can irrevocably change when you're injured in a wreck.
However, if you are seriously injured in a car crash where you were not at fault, you may be eligible for compensation for your medical expenses and pain and suffering.
You may not understand Utah's personal injury laws, and filing a personal injury claim isn't a simple process. When you work with a Salt Lake City car accident lawyer like Siegfried & Jensen, they will guide on how to best go about filing a personal injury claim. Retaining legal counsel helps ensure you get a positive outcome for your claim.
Like all other states Utah limits the amount of time you have to file a case in court after an injury or accident. This rule is known as a statute of limitations – and you get only four years  to bring a personal injury case to court. So don't wait! If you don't file your case within four years of the accident or injury, the court system may not hear your case at all.
Dealing with Insurance Companies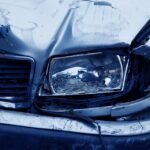 Insurance companies can create a big hassle after a wreck when it's a severe collision. For minor car wrecks, it's usually relatively simple to file a claim to recover your losses. The damages will probably be low—some minor damage to your vehicle or some minor medical bills.
But when it's a serious accident in Salt Lake City, the damage, expense and medical bills can skyrocket.
Unfortunately insurance companies are out there to make money, which means they are always trying to reduce financial losses. That absolutely includes trying to keep any compensation to a minimum – even if that's cheating you out of what is rightfully yours. They are not there to sympathize with you and your situation.
An attorney prevents this kind of treatment. Siegfried & Jensen can take the calls from the insurance company and negotiate a fair settlement. Never accept a settlement from an insurance company without discussing it with your car accident attorney first.
Utah's Negligence Laws
You've been injured in a car crash, and you may believe that you simply have to file a claim with your insurance company, and the damages will be covered. However that process can be challenged if you are injured severely.
You could be in the hospital for an extended period or even have a permanent injury. The main question is will the insurance cover all your losses? That's where a personal injury lawsuit is an option you should consider. You'll need compensation not only for hospital bills, but also for any lost wages and future medical expenses that are related to the accident. If it's someone else's negligence that caused your crash, that person is responsible for any damages that are beyond what your insurer will cover.
Utah uses modified comparative negligence – this determines how much of each party involved in an accident is responsible. If you're partially at fault for your injuries, then your compensation will be decreased by the percentage of which you are responsible. If you're 50 percent or more responsible, you will lose the right to seek damages. So make sure you don't accidental admit fault when the accident was caused by the other party involved.
When You Have A Serious Injury
In car accident cases, Utah follows a no-fault system, which means that after most traffic accidents, an injured person's own insurance company will provide coverage for medical expenses and lost income, no matter who was at fault for the accident.
However you can hold the other driver liable after a car accident under the "serious injury" threshold. Obviously, that term can mean many things, so your lawyer should negotiate whether your injuries meet the threshold.
And serious injuries are just what they say – they are serious. In fact they can affect you for the rest of your life. You might have chronic pain or mobility issues. You might be unable to work or you might have scars which will negatively affect your self-esteem.
If these injuries occurred due to another person's negligence, you need to be compensated financially for all the ways in which your pain and suffering impacts your future life.
Some devastating injuries associated with car accidents include: Spine, back, and neck injuries, brain damage, broken bones, internal organ injury, internal bleeding, dismemberment, severe burns, and devastating scarring.
Get Compensation for Your Salt Lake City Accident
An accident can permanently affect your life, and you may be suffering physically and emotionally because of the trauma.
Here are some of the losses you might incur in a dangerous auto accident: Lost or damaged property, medical expenses (hospital bills, medications, physical therapy), pain and suffering, mental anguish and mental treatment, lost wages, caregiving and transportation, lessening of your quality of life.
Salt Lake City Car Accident FAQ
When you contact Siegfried & Jensen, they can grant you answers to any questions you may have regarding your personal injury. They can examine if you have a viable personal injury claim and how to go about the process. If you still have questions read on.
Can I seek damages even if I am partially at fault?
You can seek compensation as long as you are found less than 50 percent responsible for the accident. However, you should be aware that your award will be reduced by your percentage of responsibility.
Should I give a recorded statement to the insurance company?
No. no. no. Let your auto accident attorney handle any communications with the insurance companies.
How long does a case take to be finished?
It depends on the individual case. It could take a few months or even up to a year. Hang in there – your lawyer is working for you.
Call Your Attorney
Being injured in an auto collision is a horrible experience, but you can get through it. Let Siegfried & Jensen help get you the justice and compensation you deserve. Call (801) 598-1218.