Car accident victims do not always feel symptoms related to their injuries immediately after an accident. For some, symptoms can take hours, days, or even weeks to first appear. This often happens in car accidents because symptoms of injuries are masked by the rush of adrenaline most victims experience.
Unfortunately, experiencing a delayed onset of symptoms after an accident can make it more difficult for victims to obtain compensation for their car accident-related injuries. Delayed injuries are extremely common in auto accidents, and you deserve to be compensated fairly for them.
Siegfried & Jensen works diligently to help accident victims recover the remuneration they deserve for lost wages, medical expenses, pain and suffering, and more. Contact our law firm today to see how we can help you with your case.
Common Injuries With Delayed Onset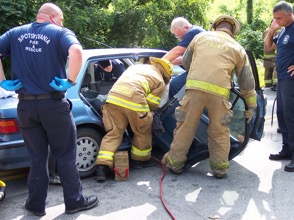 There are several injuries which individuals sustain in motor vehicle accidents that have a delayed onset of symptoms. Some of the most common injuries include:
Whiplash: Whiplash is a common injury in car accidents, but happens most often when individuals are rear-ended in their vehicles. Individuals incur whiplash when their body is thrown forward while their head and necks snap back abruptly.
This injury can have a serious impact on a person's nerves, muscles, and joints. Individuals who suffer from whiplash often experience numerous side effects, like:
Pain in the neck;
Pain in the upper back;
Dizziness;
Headaches;
Blurred vision;
Sleep problems; and
Ringing in the ears.
Individuals can begin feeling symptoms of whiplash between 12 hours and five days after the accident occurs. Minor whiplash can resolve with a month, where more severe cases can cause permanent damage. Individuals who sustain whiplash often have to receive physical therapy for this condition.
Soft Tissue Injuries: These injuries can occur any of the muscles, tendons, or ligaments in the body. Soft tissue injuries can appear within one day to one week after an accident. Some of the most common symptoms of these injuries include:
Inflammation;
Discoloration of the affected area;
Stiffness; and
Problems bearing weight on the affected area.
Whiplash is a type of soft tissue injury. Individuals who experience whiplash can exert symptoms of whiplash as well as any of the soft tissue injury symptoms.
Concussion: A concussion is a type of traumatic brain injury in which victims display various medical, psychological, and behavioral symptoms. Concussions often occur due to the impact on the head in an automobile accident. A concussion is the result of the brain crashing against the side of the skull due to sudden impact; however, concussions can also occur even if the head did not sustain a direct blow during impact. Changes in the vehicle's motion can cause the neck and head of a victim to jerk and force their brain to bounce within the skull, resulting in brain damage.
Individuals who suffer from concussions often experience an array of symptoms, including:
Loss of equilibrium;
Headaches;
Irritation;
Disorientation;
Mood swings;
Sleeping and eating pattern changes;
A Decrease in responsiveness; and
Sensitivity to light and sounds.
Individuals who suffer from concussions can recover within a few days, but long-term side effects can sometimes occur. It is crucial for individuals who sustain concussions to obtain immediate medical attention.
Psychological Trauma: Posttraumatic stress disorder (PTSD) is a common mental condition that develops in accident victims. PTSD can cause victims to suffer numerous side effects that can have a major and permanent impact on their quality of life. Symptoms of PTSD can occur immediately after the accident or several days or weeks later. In some cases, individuals are "triggered" by objects or events that cause symptoms to appear.
Most of the symptoms of PTSD or not physical; therefore, treating and diagnosing the condition is rather difficult. Some of the mental and psychological symptoms individuals often exert are:
Experiencing flashbacks of the event;
Drastic mood changes;
Eating disruptions;
Sleeping problems;
Anxiety;
Feeling hopeless;
Negative thoughts; and
Reckless behaviors.
Unfortunately, car accident victims tend to downplay the symptoms of PTSD regardless of the overwhelming impact it can have on their mental health. It is crucial for anyone who suffers from PTSD from their car accident to seek help from a mental health professional as soon as possible.
Damages For Injuries
Individuals who sustain injuries in car accidents might be able to recover compensation for their damages. Some of the most common damages accident victims demand are:
Compensation for lost wages;
Money to cover all medical expenses;
Compensation for pain and suffering; and
Compensation to cover the repair or replacement of vehicles.
There are cases where at-fault drivers are found to be extremely negligent in causing an accident. In these cases, courts are able to award punitive damages to injury victims. Punitive damages do not have to compensate a victim for any specific loss. Instead, they are ordered by the court to punish the at-fault driver for their wrongdoing.
In order to recover the maximum amount of reparations you are entitled to for your injuries, it is crucial to contact an experienced personal injury attorney to help you with your case.
Schedule A Case Evaluation With A Utah Car Accident Attorney
We understand the difficult road ahead that accident victims face. They are often overwhelmed with medical bills and unable to return to work. Not only do victims suffer from physical pain and emotional distress, but their spouses and children often suffer as well.
If you have been injured in a car accident, it is crucial to contact a personal injury attorney as soon as possible. At Siegfried & Jensen, we have 30 years of experience helping accident victims recover remuneration for their injuries. Contact Siegfried & Jensen at (801) 845-9000 to schedule a free, no obligations case evaluation so we can help you get the compensation you deserve for your damages and justice for your injuries.