Road safety is crucial in preventing car accidents. Often in accidents with motor vehicles, the r cause of the accident is because of tire defects or failure. To avoid tire failure while traveling on the road, it is helpful to choose a high-quality tire. If you experience tire failure, you can possibly lose your ability to control your vehicle, and this presents a risk to your passengers and other drivers on the road.
Tire malfunctions can lead to product liability claims. If you can provide evidence of negligence or a breach of duty by the manufacturer, you can create a strong case. Utah product liability gives you the right to enact legal action against the at-fault party to seek compensation, especially if you suffered from bodily injury in a crash caused by tire malfunction.
If you or a family member have recently sustained injuries or other damages due to defective tires, you should call the experienced Salt Lake City defective tire lawyers at Siegfried & Jensen to help with your case. We will use our knowledge to help you get the settlement you deserve to cover your expenses after an accident due to someone else's negligence.
Accidents Due to Defective Tires
Malfunctioning tires usually occur because of poor manufacturing. The quality and age of the product also come into play. These defects can potentially cause crashes when the tread separates, exposing a design flaw of the product. Blowouts and old tires are common reasons for car crashes because of the extreme pressure or decline of product performance. Some common tire defects include:
Tires without enhanced components

Improper tire repair or wall punctures

Design flaws

Inadequate tire suitability to the vehicle
Poor retread post-purchase

Tire damage during the mounting process

Manufacturing defects prior to purchase
Recalls of Defective Tires
Tire recalls for specific defects is common. Many times, these defects will pass through initial inspection of the product. The installation and use of these defective products can cause serious injury, death, and property damage. BF Goodrich, Bridgestone, Firestone, Goodyear, Michelin, and Yokohama are all commonly recalled tire manufacturers. Common defects and risks of these products that have lead to recalls include:
Rapid loss of air pressure

Failure of strength test requirements

Separation of the tire belt
Loss of control because of belt separation

Separation of the tire sidewall
Is the Tire Manufacturer Liable for Damages?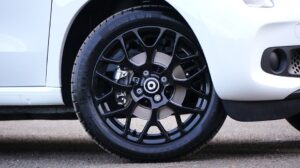 It is the responsibility of the manufacturer to create a safe product for their customers. When the company breaches this duty, you could be able to file an injury claim to hold the manufacturer responsible. Tire manufacturers may be at-fault in the following situations:
Separation of the tire tread, even with proper inflation and use

Knowledge of defects but failing to recall quickly

Selling of tires by the manufacturer with a known defect

Any defect that causes serious, fatal injuries
The statute of limitations in Utah for product liability claims can vary. Typically the following tim limits apply:
Strict Products Liability claims are required to be initiated within two years after the time of the injury

Negligence claims have to be brought within four years.

Breach of Warranty claims may be dictated by a guide or writing accompanying the product.
Compensation for Defective Tire Accident Claims
In order to recover compensation for damages resulting from defective tires in Utah, you have to provide evidence that the product was unreasonably dangerous, caused the accident or injury, and that the liability is with the other party. You may be able to regain damages for economic and non-economic losses, like medical costs, lost income, and general suffering.
In Utah, if you were partly responsible for the crash, the awarded compensation may be reduced by your degree of fault. This essentially means that if damages awarded is $100,000, but you are 40 percent responsible, your final amount will be lowered to $60,000. This is known as "comparative negligence."
The Value of Proper Inflation
Keeping your tires inflated can help prevent accidents. Tire pressure can cause tire defects to worsen over time. Separation of the sidewall is more likely if tires do not have adequate air pressure. This is because of heat that builds up, causing damage to the structure of the tire. It may be hard to notice if you aren't moving, but when you are moving, the process will speed up. This can cause potential blowouts. If you did not inflate your tires properly, the tire manufacturer will try to place blame on your for the accident and the resulting damages.
Choosing The Best Tire For Your Vehicle
Another way to prevent blowouts and issues due to tire defects is to select tires that are suitable for your car. This information may be available on the door jamb of the vehicle. You need to consider what you are using the vehicle for because this can change the type of tire that is needed. Different types of terrain require different types of tires. If you do not have the proper tire, you may have issues once you heat the road.
Deadly Defective Tire Accidents in Utah
Tire malfunctions can cause serious injury, property damage, and even the death of a loved one. An investigation into the incident can help gather evidence that can signal a defect, like inspection reports, manufacturer documentation, reports of similar issues, and photos of damages. An experienced product liability attorney in Utah can help you gather crucial evidence and take over negotiations with the manufacturer.
The firm at Siegfried & Jensen has the experience and knowledge to help you be successful in your product liability claim. Our firm proudly has a 97 percent success rate, and we have had over 35,000 cases. Our clients have recovered over $825 million in damages to get their lives back on track after an accident. It is our belief that to protect our communities, we need to hold at-fault parties responsible for their actions today. Do not hesitate to call us to discuss your case today with an experienced Salt Lake City defective tire attorney.