The Causes of Motorcycle Crashes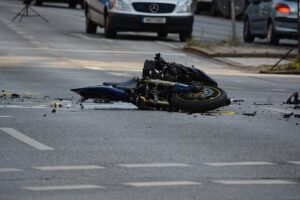 The skilled attorneys at Siegfried & Jensen are proud to offer services to those who have sustained injuries in a motorcycle accident.
In comparison to someone riding in a car or larger vehicle, motorcycle operators are 8 times more likely to be injured as the result of a collision. We are here to protect you and your loved ones in the event that you are injured due to someone else's negligence.
You need to remain safe on the roadways in order to limit your exposure to risk or danger while operating a motorcycle.
With this in mind, we would prefer that motorcycle riders be able to share the roadways securely and safely with other vehicles. Here are some of the most typical reasons for motorcycle crashes, as well as some ways you can potentially avoid them while you are on the road:
Roadway Hazards.

A primary concern for motorcycle riders traveling on the road is roadway hazards. These could include loose gravel, potholes, oil, as well as other obstacles that you have largely no ability to control. One way to remain safe is to have good quality tires that have a healthy grip. This is crucial when traveling on looser road areas. You should always practice safe driving habits, including traveling at safe speeds. You need to at least consider avoiding certain hazards if it seems like they are more than your vehicle can handle. Always have a clear line of sight of the road and be prepared to slow down if necessary.

Blocked Eyesight. Overall, 25 percent of all motorcycle crashes follow this scenario: you are driving your bike straight down the roadway, and another motorist decides to make a left turn into your area. Often they are traveling in the opposite direction that you are. This person does not notice that you are there, but they decide to try and make the turn regardless. This can be a very unfortunate scene and can you leave you with many injuries resulting from the accident. In this case, you may be able to file an accident claim against the driver. In order to avoid these situations, you should carefully observe all intersections where these events can transpire. You have to try and remain aware of your surroundings.
DUI.

At least a third of all combined motorcycle crashes involve alcohol or intoxication in some form. This impairs both vision and reflexes when operating a motor vehicle. Reaction time is very important when operating a motorcycle or a larger motor vehicle. To put it simply, you should never drink and drive any vehicle at any time.

Rain and Visibility.

Slick roadways can be difficult to navigate for both motorcycle and car drivers alike, specifically regarding how their motor vehicles can handle these conditions. Heavy fog or rain can have adverse effects on visibility behind the wheel or on a motorcycle. Because of this, you should be sure to have your lights on and to drive slowly when inside a storm in order to provide safety to everyone on the road.
If you are looking for more information regarding the usual reasons for motorcycle crashes, you should reach out to an experienced motorcycle crash injury attorney in Utah in order to discuss this further.
The Importance of Wearing a Helmet
The Centers for Disease Control and Prevention have confirmed that wearing helmets is an important aspect of preventing serious injuries when operating a motorcycle. When wearing a helmet, you are not completely safe by any means, but it goes a long way in order to provide protection to all riders.
While helmets do not effectively prevent these crashes from taking place, they can ultimately decrease the level of injuries that are sustained in these events.
There are some key reasons that individuals choose not to wear helmets. There are many excuses, such as they are uncomfortable, or that people just don't think that they really need them.
One excuse should not be the inability to afford them. Helmets can vary regarding their price on the market, but there are many resources available where you can receive a helmet at a reduced cost. As previously stated, crashes will happen regardless if you are wearing a helmet or not, but ultimately they are meant to protect you while you are operating a motorcycle or similar vehicle. If you or someone you care about has been the victim of a motorcycle accident, please contact Siegfried & Jensen today to talk more about your settlement, accident claim, or how can you recover after a motorcycle accident.
Salt Lake City Motorcycle Accidents
The National Highway Travel Safety Administration (NHTSA) states that in the year 2008, 35% of motorcycle riders that were involved in fatal crashes were speeding. This is compared to 23% of passenger car drivers and 19% of light truck drivers. You need to be prepared if you are the victim of a tragic motorcycle accident by partnering with an experienced law firm.
For many over two decades, the firm of Siegfried & Jensen has been offering help to the area of Salt Lake City and the surrounding cities who have suffered from an injury as the result of a tragic accident or event. We believe that one of the best ways to ensure that families and communities are safe is to make sure that at-fault parties are held responsible for their actions.
We have recovered over $850 million for our esteemed clients. Also, our firm has a 97% success rate with our combined 35,000 cases.
The team at Siegfried & Jensen understands that filing a suit against another person is not always the right answer. But, we also understand that having someone on your side can mean all the difference between declaring bankruptcy and rebuilding your life. We want to help you move forward after an accident, especially when you are dealing with a large insurance company or hospital.
If you or a loved one has been the victim of a car accident or personal injury, please contact our offices at (801) 845-9000 to discuss your case with an experienced Utah car crash attorney today.