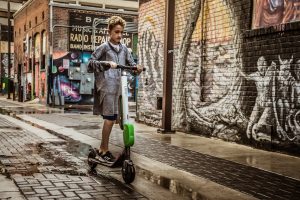 You've probably noticed more electric bikes and scooters on the roads recently. They are more economical to operate than cars, and some people simply prefer their flexibility. Unfortunately, more bikes and scooters mean a rise in the number of accidents.
Damage to scooters and the injuries suffered by their riders are often severe, sometimes life-threatening or fatal. Related expenses can mount quickly, leaving victims wondering how to pay for them. To make the financial situation worse, these people usually can't work during their recovery, meaning there's no income during that time.
The experienced attorneys at Siegfried & Jensen appreciate the stress and difficulties that injured accident victims often face. We also understand Utah's bike and traffic laws, injury thresholds, insurance requirements, and comparative negligence laws that govern electric scooter accidents. We invite you to contact us so we can explain how we help our clients obtain compensation for their damages.
What's the Difference Between Electric Scooters and Electric Bikes?
Electric bikes are similar in design to bicycles and motorcycles. Operators have a seat, and an electric motor propels the bike faster than ordinary bicycles but slower than motorcycles. Electric scooters are significantly different.
Scooters don't have seats. The operator stands on a narrow platform suspended between two small wheels, using handlebars for steering. Users can ride using their own power or with the additional assistance of an electric battery.
Bikers and scooter riders have several things in common that can present complications:
Minimal protection
Very susceptible to debris in the road
Difficult for some drivers to see
Can sustain extremely serious or fatal injuries in an accident
Unable to travel at higher speeds (sometimes significant if attempting to avoid a collision)
These factors combine to make riding electric scooters or bikes risky.
What Are the Most Common Electric Scooter Accident Injuries?
E-scooter riders are virtually unprotected in collisions. Although most electric scooter accidents happen on sidewalks, the injuries riders sustain are similar to pedestrian injuries when a car hits them, even at lower speeds. When two vehicles collide at 30 mph, it's usually a fender bender with minor injuries. A car traveling at 30 mph can gravely injure or kill e-scooter riders.
Some of the common injuries e-scooter riders experience include:
Riders likely face extensive medical treatments and lengthy recovery times. Even after the initial injuries heal, victims can have life-long complications. You may qualify to receive compensation for some of these complications, including:
PTSD, anxiety, and depression
Pain and suffering
Losing the ability to enjoy life
Permanent disability or disfigurement
Personal relationship damage
These non-economic damages aren't available in all cases. Ask your electric scooter accident lawyer from Siegfried & Jensen if you qualify.
What About Rideshare Company E-Scooters?
Rideshare companies in many areas now offer electric scooter rentals. These companies are responsible for maintaining the scooters and keeping them safe for riders to use. If one is involved in an accident, questions may arise. Did a scooter malfunction cause the accident? Is the rideshare company that owns the scooter or the rider liable?
Every accident has differing circumstances. In general, if rider or company negligence caused a collision, that party is liable. Accident claims involving rideshare e-scooters are often complex, but your electric scooter accident lawyer from Siegfried & Jensen can get to the bottom of them to ensure that liability is appropriately assigned.
What Is Negligence?
The vast majority of personal injury cases involve negligence. Legally, negligence is failing to act in a way that reasonable people would in a similar situation to ensure the safety of others. To find someone guilty of negligence, you must prove that specific criteria are true. Your attorney will assess the facts of your case to determine if negligence is present.
What If the Electric Scooter Causes the Accident?
E-scooters can cause accidents too. For example, a scooter can suddenly dart in front of other vehicles on the road, not allowing that car or truck enough time to take action to avoid a collision. If that happens, the scooter rider will likely be found at fault for the wreck.
Utah is one of a few states that follow no-fault laws. Licensed drivers must maintain personal injury protection insurance to cover certain expenses if they're involved in an accident, regardless of who is at fault. However, your insurance company may attempt to deny coverage or only pay minimal amounts of compensation.
If you are a scooter rider who caused a collision, your PIP policy should pay many of your damages up to your policy limits. Multiple parties are sometimes responsible for contributing to crashes. If you're at least 50% at fault, you can't obtain certain kinds of compensation.
Your electric scooter accident lawyer from Siegfried & Jensen understands how fault is determined and its potential impact on your claim. We will investigate your accident to ensure that the blame is correctly assigned. We'll also work on your behalf to ensure that the liable insurance company pays, even if it's yours.
What Does an Electric Scooter Lawyer Do?
You may wonder if hiring an attorney to represent you will make a difference in your claim. You'll receive many benefits when you hire Siegfried & Jensen. We will:
Provide information and options throughout the process
Prepare and file paperwork for you
Investigate the cause of your accident
Gather evidence to support your claim
Ensure that fault is assigned fairly
Become your spokesperson with insurance companies
Negotiate a satisfactory settlement or take your case to trial
Without an experienced attorney on your side, the many potential complications are likely to confuse you. You need to recover from your injuries instead of trying to navigate the complexities of your electric scooter accident claim. Your lawyer from Siegfried & Jensen will take care of all the tasks associated with your claim so you can focus on recovery.
Can Any Lawyer Represent You?
Technically, the answer to that question is yes. However, choosing one who focuses on personal injury law makes sense. Would you hire a plumber to install electrical wiring? Would you go to a podiatrist for a cold?
Many attorneys focus on particular areas of law, similar to how contractors or doctors specialize. This focus gives them in-depth knowledge of the laws, regulations, potential complications, and procedures surrounding those areas. While a divorce attorney could represent you with your electric scooter accident claim, they're unlikely to be familiar with all the technicalities.
Why Select Siegfried & Jensen?
Siegfried & Jensen has recovered over $1.2 billion for our clients since 1990. Our success rate for the more than 35,000 cases we've handled is 97%. Our track record proves that our attorneys are competent. You'll also discover other benefits that other firms may not offer:
We take cases on a contingency fee basis; you don't pay us if we don't win compensation for you.
You can contact us 24 hours a day to request a free case evaluation.
We'll come to you if traveling to one of our four offices throughout Utah isn't convenient for you.
Submit our contact form online or call us at (801) 845-9000 today. Let us show you how we can make a difference.