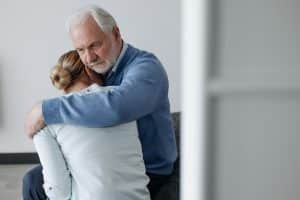 The loss of a loved one can cause a family to feel a great deal of grief. When the loss happens unexpectedly, such as in a car accident, the family may wonder if they can pursue a wrongful death claim to be compensated for their loss and get justice for their loved one.
The unexpected death of a loved one can leave the family with a heavy financial burden of medical and funeral expenses. Pursuing a wrongful death lawsuit could help to lighten this load.
If you and your family are dealing with the emotional and mental stress of losing a loved one in a car accident, you may be able to pursue a wrongful death lawsuit and receive compensation for your losses. Please know that the assistance of an experienced wrongful death lawyer will be vital to your claim. What's more, your lawyer does the work for you while you and your family focus on healing.
Who Can Pursue a Wrongful Death Lawsuit in Utah?
When the "death of a person is caused by the wrongful act or neglect of another," it is considered to be wrongful death in Utah (§78B-3-106). The party whose negligence caused the death could be a person, a company, or even a municipality.
In general, when a person suffers an injury that resulted from the negligence of someone else, the victim can pursue compensation for his or her losses. However, in a wrongful death claim, since the victim has died, who can pursue compensation?
According to Utah law, the heirs of the deceased or personal representative of his or her estate can pursue a lawsuit. The heirs are defined as follows:
Spouse of the deceased
Children (natural or adopted)
Stepchildren (if under 18 years old and financially dependent on the deceased)
Parents of the deceased
Another blood relative (if there are no other heirs of the deceased)
If you and your family are dealing with the aftermath of a wrongful death from a car accident, you have the right to hold the negligent party responsible. A wrongful death lawyer with our firm can assist you in pursuing your claim.
Common Causes of Fatal Car Accidents
Although Utah is ranked as one of the safest states for drivers, there were 293 fatal crashes in the state in just one recent year. In most cases, the cause of car crashes is driver error or neglect. This means that even the most cautious driver can unexpectedly suffer a fatal accident.
The following are the most common causes of fatal car accidents in Utah:
Reckless driving: Speeding was the cause of 29 percent of all traffic fatalities in 2021 in the nation. In fact, for over the last 20 years, speeding has been a contributing factor in approximately one-third of motor vehicle deaths. Other types of reckless driving include failing to yield, running red lights, and improper lane changing.
Driving under the influence: When a driver's thinking ability has been dulled by the use of alcohol or drugs, his or her reflexes are impaired. DUIs are a leading cause of traffic-related fatalities.
Distracted driving: A fatal accident can occur when a driver's attention is diverted away from the road for a considerable period of time. Cell phone usage is the most common type of distracted driving. Other forms include eating, taking photos, applying makeup, daydreaming, and engaging with passengers.
Drowsy driving: For every 25 adult drivers, 1 is reported to have fallen asleep at the wheel in the past 30 days, according to the CDC. Some factors that contribute to fatigued driving are certain medications or illnesses, shift work, driving for excessively long hours, or simply getting insufficient rest at night.
Inclement weather or road conditions: Sometimes the cause of a fatal car accident is not due to driver negligence but, rather, hazardous weather or road conditions. Snow, sleet, and rain can cause the road to become slick, which could result in a car hydroplaning. Huge potholes or cracks in the road can also cause a driver to lose control of the vehicle when trying to avoid such hazards.
Other factors can be the cause of a fatal car crash. For example, perhaps a faulty car part caused the accident. If this is discovered to be the cause, then the manufacturer of the part could be held liable.
In order to pursue a wrongful death lawsuit, it must be shown that the responsible party or parties were negligent and that the fatality occurred as a result of such negligence. Proving this would require extensive research on the part of an experienced wrongful death lawyer.
Types of Compensation You Can Get
Although it is not possible to replace the loved one you have lost, financial compensation can help cover any expenses you may be dealing with so you can move forward with healing.
Your compensation may cover the following costs:
Medical expenses
Lost wages and future earnings
Funeral and burial expenses
Emotional distress
How Our Utah Wrongful Death Lawyers Can Help You Sue
While it is true that no amount of money can truly compensate for the loss of your loved one, a wrongful death lawsuit can help your family achieve a measure of justice, recover emotional damages, and receive financial support. This way, you can secure your financial future.
The process of pursuing a wrongful death lawsuit can be complicated, and the investigative process can be extensive. Trying to deal with experienced defense attorneys and insurance companies interested in protecting their clients can also leave you feeling frustrated.
You need a law firm familiar with the tactics used by insurance companies and defense attorneys. The right law firm will know how to gather evidence, isolate the facts, and aggressively pursue all responsible parties for compensation.
Siegfried & Jensen is all of the above. Our lawyers have recovered more than $1.2 billion for our clients over the years. Contact us today at (801) 845-9000 for a free consultation.