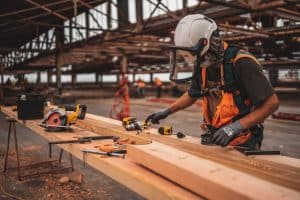 Around 2.7 million nonfatal workplace injuries occur annually across the country. These injuries range from minor lacerations and bruising to devastating physical and psychological harm. In Utah, all employers, with only a few exceptions, must purchase workers' compensation insurance to protect the employer and employee when an accident inevitably happens. For the most part, accessing compensation through a workers' comp claim is quick and easy. However, when the process becomes more challenging, either delaying or denying coverage to an injured employee, a workers' compensation lawyer can help resolve the issues.
What Should You Do if Injured on the Job?
In the aftermath of a workplace accident, the steps you take can directly affect your ability to file a claim for workers' compensation insurance. Unless you need immediate medical attention or are incapacitated, you can take four simple steps to protect your right to workers' compensation:
Step 1: Report the Injury to Your Supervisor
The priority is to ensure you get the help you need. If you cannot move, have someone call 911 and alert your boss. If your injury is less severe, find your supervisor immediately to report the accident and your injury. Provide as many details as possible about how the accident happened, and avoid minimizing the severity of your injury. In Utah, you have 180 days to let your employer know or risk disqualification from receiving benefits. Once you report it, your employer has seven days to file the claim with their insurer. Waiting too long to report an accident only leaves a gap in time that the insurance company could use to argue against your claim.
Step 2: See a Doctor for a Medical Evaluation
See a doctor immediately for treatment, even if you only sustained minor injuries. Just as it is your responsibility to report the accident, you must take the initiative and schedule a doctor's appointment. Workers' compensation insurance covers all necessary medical treatments. Additionally, if you suffered a significant injury and need to miss work, you will need a form from the doctor to prove the debilitating nature of your injury.
Step 3: Gather Information and Documentation
Your employer must provide a copy of the accident report. However, you may find it beneficial to write down everything that happened for your own record while it is freshest in your memory. You can also list people who witnessed the accident and keep everything in a secure place. Should you face any issues while filing your claim or receive a denial and need to appeal, this information could help you speed up the process.
Step 4: Contact a Workers' Compensation Lawyer
As it is with any insurance claim, you have to deal with any insurance adjuster while they investigate your accident. Unfortunately, insurance companies can be combative, especially for high-cost claims. Some common bad faith tactics insurers employ to lessen the company's burden from a workers' comp claim include:
Misrepresenting recorded conversations to change the narrative of the accident and your claim
Disputing medically necessary treatments you received
Offering a fast, low-ball settlement
Asking you to sign suspicious authorization documents
Calling to offer well wishes but pushing you to take a rushed settlement
A workers' comp lawyer will handle all communications with the insurance company and advise you through the process to ensure you avoid any unsavory tactics from the adjuster.
What Can an Experienced Workers' Comp Lawyer Do for Your Case?
If you are trying to decide whether you need legal representation for your case, start by considering what an experienced workers' comp lawyer can offer. For example, perhaps you received a denial after you filed your claim and need help navigating the complex appeals process, or maybe the insurance adjuster is combative for no reason. In either case, an attorney can help you take the next steps and avoid further delay.
Representation
Not all cases result in a settlement. Insurance companies commonly try to offer payments that significantly undervalue the claim because they know the employee may desperately need the money. In this case, your attorney will know when to settle and when to take your case to trial. Additionally, they will prepare your case for trial by investigating the accident, including taking depositions, writing your pleadings, and requesting medical records to gather all the evidence needed to support your claim.
Negotiation Skills
An experienced workers' comp attorney knows how to adequately value your claim, ensuring your receive compensation that accurately reflects your losses. Some evidence they may collect include:
An evaluation of your injuries and how they limit your ability to work
Proof of wages before the accident
Medical records and bills to show the cost of necessary treatments
Evidence of late payments by the employer
A valuable component of an attorney's negotiation skills is the ability to recognize when insurance companies are acting in bad faith. Your attorney will combat unfair claims and fight for you.
Advisement in More Complex Cases
Workplace accidents can become more challenging depending on the parties involved and the nature of the accident. For example, third-party involvement could result in a personal injury lawsuit. An essential element of workers' compensation insurance is the no-fault policy. Insurers and employers cannot deny benefits based on fault, and injured employees cannot sue for compensation based on liability in a workers' comp case. However, suppose you suffered an injury due to a manufacturer's defective equipment, your attorney may advise you to file a personal injury lawsuit against the third-party manufacturer to recover damages, such as pain and suffering, not covered by workers' comp insurance.
Case Development
The most crucial element in a workers' comp case is collecting and presenting evidence necessary to prove your claim. Because you do not have a workers' comp claim without an injury, the most critical evidence is proof of medical care. Some ways an attorney can develop the medical evidence you need are:
Interviewing medical professionals regarding the diagnosis and necessity of specific treatments for your particular injury
Collecting your medical records
Representing you when the insurance company has you deposed for questioning
Recommending specific specialists or physicians with experience in treating workplace injuries
Initiating an independent medical examination to get an opinion from more than one doctor when necessary
They may also speak with your family and friends to gather statements about how your injury has impacted your daily life. When dealing with a difficult employer, they may investigate the employer's history to look for signs of poor safety precautions or insufficient training policies. They can even access vocational experts in your field of work.
When Should You Hire a Workers' Comp Lawyer?
Some workers' comp claims are open and shut without significant financial losses or complications with the insurance company. In such cases, you likely would not need legal representation. However, the most common reason someone contacts a workers' comp attorney is to discuss issues during the claim process.
Common Reasons for Needing a Workers' Comp Lawyer
Anytime you face complications while seeking workers' compensation, you should contact an experienced lawyer. Some common examples of reasons to seek legal advice include:
You face retaliation from your employer. Termination, demotion, or reduction of hours or pay as a direct implication of you filing a workers' comp claim is a violation of your legal rights.
The insurer or employer denies your claim. Unfortunately, an overwhelming number of people will accept a denial without question, so insurance companies and employers sometimes deny valid claims.
You have not received prompt payments. Employers must release payments within a specific time frame and are subject to fines if they fail to do so.
You currently receive benefits from Social Security disability or intend to apply soon. Accepting workers' comp benefits can significantly affect the amount of SSD benefits your receive. However, an attorney can negotiate a settlement agreement to avoid that possibility.
You suffered a permanent disability as a result of your accident. Workers' comp policies sometimes include a substantial payment or installments of payments for permanent disability, but insurers will fight to avoid those large payouts.
Obtaining legal representation is not limited to these scenarios. If you have any questions about your case, most workers' compensation attorneys offer free consultations to help you understand the legal options available.
What Are the Advantages of Hiring a Workers' Compensation Lawyer?
There are many ways a workers' compensation lawyer can help you following a workplace injury. First, they file all the necessary paperwork to ensure you make no errors that might delay compensation. They can improve your chances of receiving all the available benefits for as long as possible. If you are facing a denial, your attorney can file your appeal while you focus on getting better. Siegfried and Jensen's workers' compensation lawyers have years of experience helping employees get the compensation they need to recover their lives or adapt to a new life following a workplace accident. We will use all the resources available to ensure you receive fair treatment from all parties involved in your case. Contact Siegfried and Jensen today for your free consultation. We will address all your concerns and answer any questions about the workers' comp process.