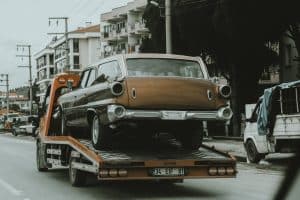 Tow trucks are larger and heavier than passenger autos and can cause significant damage and serious injuries or fatalities if they cause an accident. Claims involving tow trucks are often complicated, but you don't have to handle yours alone. If a tow truck accident injured you, contact Siegfried & Jensen.
Are Tow Truck Accident Claims Complicated?
Companies, individuals, and government agencies can own and operate tow trucks. Tow trucks are commercial vehicles, and that fact alone complicates liability if they cause a collision. Government involvement brings even more challenges to an accident claim.
Multiple Party Liability
When any kind of commercial vehicle causes an accident, there is the potential that more than one party is responsible and liable to pay compensation for the damages:
The driver
The company or government agency the driver works for
Vehicle, system, or parts manufacturers
Maintenance company or person
The vehicle's owner or leasing company
Cargo owner, shipper, or loader
One or more of these parties is possibly at fault if an accident occurs. Your tow truck accident lawyer will investigate your accident to assign blame where it belongs.
Governmental Involvement
When a government employee, agency, or vehicle causes an accident resulting from negligence, you have the right to compensation. However, your claim is subject to complex requirements, rules, and procedures. If you fail to follow them correctly, you may lose the opportunity to recover compensation. To avoid that risk, contact Siegfried & Jensen today.
A government-owned tow truck isn't the only way government agencies can cause a tow truck accident. Some form of government is responsible for maintaining the roads we travel on. Unrepaired potholes, cracks, and other issues can cause tow truck collisions.
In Utah, typical car accidents allow injured victims four years from the date of the accident to file a claim. Those caused by any form of government involvement have only a one-year statute of limitations.
The already-complicated nature of tow truck accidents means that investigating the collision and preparing a claim is a lengthy process. The short time limit you have to file a claim against the government adds to the need to start preparations soon after your accident, even with an attorney representing you.
What Utah Laws Affect Tow Truck Accidents?
Several state laws govern how and when you can recover compensation if you're involved in a tow truck accident. Your attorney from Siegfried & Jensen will explain how each of them affects your specific circumstances.
Statute of Limitations
Most vehicle accidents produce injuries and vehicle damage. Some even cause fatalities. In each of these cases, Utah laws limit the time you have to make claims for your damages. These statutes of limitations differ, and it's important to understand which applies to your accident.
Utah statutes of limitations are:
Auto accident injuries: four years
Auto accident fatalities: two years
Vehicle or property damage: three years
Government involvement: one year
In most cases, the statute of limitations timeline begins on the date of your accident. Ask your lawyer to be certain how long you have.
No-Fault Insurance Requirements
Utah is in the minority of states that requires licensed drivers to purchase and maintain personal injury protection insurance. This coverage pays for medical costs, lost wages, and certain other expenses up to your policy limit if you're injured in an accident, regardless of who is at fault.
Utah residents must have at least $3,000 of PIP coverage. This policy won't cover vehicle damage or compensate you for non-economic damages like pain and suffering. If your accident meets specific criteria, you can file a claim against whoever caused it.
Modified Comparative Fault
More than one party is sometimes responsible for causing an accident. In those cases, each party receives a percentage of the fault. Your percentage of fault directly affects the compensation you can recover.
With Utah's modified comparative fault, you can't recover compensation for your damages if you are 50% or more responsible. In addition, your percentage of fault reduces the amount of compensation you can receive.
Suppose that you're 25% at fault for causing a tow truck accident and that total damages are $100,000. The most you can obtain is $75,000 because you must deduct that 25%.
Your lawyer from Siegfried & Jensen will ensure that fault is apportioned correctly so you don't end up with unfair blame.
What Kinds of Accidents Involve Tow Trucks?
Tow trucks use different types of systems to transport other vehicles that aren't under power themselves. This may be because that car sustained damage in an accident, its owner is in legal trouble, or won't run. There are a few ways that tow trucks secure these vehicles:
Hook and chain tow trucks: the tow truck uses a heavy-duty chain and hooks to pull a vehicle behind it. Once widely used, this type of tow truck typically only transports wrecked autos or others that don't need gentle treatment.
Flatbed tow trucks: today's most common tow truck hauls a vehicle on its bed. The truck's bed lowers and raises with a powerful hydraulic system. If the car needing towing is disabled, the tow truck uses a winch and chains to move it onto the bed for transport.
Wheel lift tow trucks: this type of tow truck uses a metal yoke to lift the front or rear tires of the car being towed, leaving the other set of tires to ride on the road.
Integrated tow trucks: these tow trucks are strong enough to transport other heavy-duty vehicles. They have an extra axle and attached boom and wheel lift. Operators can pick up a vehicle without needing to get out of the tow truck's cab.
As with any other kind of vehicle, tow trucks can cause typical types of collisions. Some wrecks are unique to tow trucks. If any of the above methods of securing a vehicle for transport fails, the car being towed can come loose.
If that happens, it can cause the tow truck driver to lose control and result in a collision. Alternatively, the car being towed may fall from a flatbed tow truck or disconnect from chains or wheel lifts and hit surrounding traffic or pedestrians. They can also become loose obstacles in the road, causing other cars to hit them.
What Kinds of Damages May Be Available?
As previously mentioned, your own PIP coverage can pay some of your expenses. However, the state minimum likely won't cover all medical expenses or time lost from work. It also doesn't compensate you for non-economic damages. Your attorney will assess your accident claim and tell you which damages you might qualify to receive. In general, there are three categories of damages for tow truck accidents.
Economic Damages
As the term implies, these damages have exact economic values. Economic damages compensate you for expenses related to your tow truck accident, including:
Medical treatments, medications, rehabilitation, therapy, medical equipment, and transportation costs related to medical appointments
Lost wages due to time missed from work
Vehicle repair or replacement
Other property damage costs
Certain daily expenses
It's important that you keep bills and receipts for all costs associated with your tow truck accident. Your tow truck accident lawyer will use them as evidence when requesting compensation.
Non-Economic Damages
Some injuries you can sustain in a tow truck accident aren't visible and don't have an attached price tag, but you still deserve compensation for them. Non-economic damages pay for things like:
Physical, emotional, and mental pain and suffering
Losing the ability to enjoy life fully
Permanent disfigurement or disability
Damage to personal relationships
PTSD, anxiety, and depression
The amount of non-economic damages depends somewhat on how severely these things impact your life. Your tow truck accident attorney from Siegfried & Jensen can assess the facts of your case and your condition to give you an estimate of how much compensation you might receive.
Punitive Damages
Gross negligence or willfully malicious actions by the guilty party may prompt a judge or jury to award punitive damages to accident victims. Rather than serving as compensation to the victims, these damages intend to punish the defendant further.
You must have sufficient evidence to request punitive damages, and other criteria must also be met. Your attorney will tell you if your case qualifies because few cases do.
How Can Siegfried & Jensen Help?
If you sustained injuries in a tow truck accident, you need to focus on recovering rather than all the tasks associated with an insurance claim or lawsuit to recover compensation. The attorneys at Siegfried & Jensen have helped Utah residents and others from surrounding states with personal injury claims similar to yours since 1990, winning more than $1.2 billion for our clients. With our experience and in-depth knowledge of the laws and procedures, you can trust us to handle your case competently.
We offer a free case review, and you won't pay any upfront costs if you choose to hire Siegfried & Jensen to represent you. With four offices throughout Utah, we're conveniently located to serve you. However, we can come to you if that's easier. Contact us 24/7 to see how we can help. Call (801) 845-9000 or submit our contact request form online today.