Accidents with semi-trucks and passenger vehicles can be particularly severe. Because of the size and weight of a commercial vehicle, these crashes can cause victims to sustain extreme injuries. In more severe cases, they can result in death. It is important to be prepared in the event of a semi-truck accident in order to protect your legal rights, especially after experiencing serious injuries.
If you or a loved one have been injured in a trucking collision, the Salt Lake City semi accident lawyers of Siegfried & Jensen are here for you. We have helped many victims and their families regain lost compensation they needed after a life-changing injury.
Our experienced personal injury lawyers have compiled some helpful tips on how to remain safe when traveling on the road near a commercial truck.
Avoid Truck Blind Spots
Large semi trucks have more blind spots that block larger areas than a normal passenger car. This makes it harder for a truck driver to see another car approaching on the road.
When traveling near a semi-truck, try to avoid the following spots:
20 ft ahead of the semi

30 ft behind the semi
The driver's side lane going back to half of the trailer length

Two lanes wide on the passenger side of the semi
You should also keep in mind that a truck driver may not be able to see you if you are unable to see him or her in the truck's side mirrors.
Always Use Turn Signals
Commercial vehicles are typically larger and heavier than most other cars that are on the road. Due to their size, these semi-trucks need more time and distance to move through traffic.
A crucial safety tip that should always be followed while driving near a commercial truck is using turn signals before changing lanes, especially if you are near a semi.
Using your turn signals allows the truck driver to see where you going ahead of time, allowing them to adjust their driving accordingly. This can help you travel safely and avoid a possible crash.
Put Space Between the Truck and You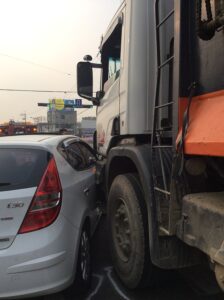 There should always be enough space between you and a semi while driving. These large vehicles need more space than normal cars do, so be sure to give them room.
A truck can take up two lanes when making wider turns. You should never pass a truck that is turning right on the right side, as it makes you vulnerable to being stuck between the truck and the curb.
Also, driving too close to a semi-truck can increase the chances of being in a crash. This can happen when:
The semi brakes suddenly, causing the vehicle to tip over or your car to slide under its trailer

High winds can result in semi rollovers

Tire blowouts could strike your car or break your windshield
Try to drive at least four seconds behind a semi-truck to give the truck driver enough room. This gives yourself more time to react to the movements of the semi.
Always Pass Safely
You need to use caution when passing a commercial vehicle because these trucks need more time to stop and move through traffic.
Even more, commercial truck drivers often decrease or increase their speed when driving up or downhill. Do not try to pass the semi at these times.
Commercial truck drivers can see you better if you are traveling on the left side of their vehicle. Always pass on the left while traveling a constant speed with proper signals. Wait to merge back into the lane until you can see the truck driver in your rearview mirror.
Lastly, when a semi is passing you, always keep right and decrease your speed. This will give the truck operator more room to pass safely while getting you out of the semi truck's blind spot faster.
Adjust the Headlights
Be aware that your headlights can potentially blind a commercial truck driver by reflecting on the vehicle's large mirrors. The bright light from your headlights could affect the driver and their ability to see and operate the vehicle safely.
Because of this, you should lower your car's high beams whenever you see an oncoming semi-truck, or any other car traveling toward you on the road.
Avoid Distractions
Roadway distractions while behind the wheel takes your attention off the road and operating your car. This puts others in danger. Always remain focused on the road while behind the wheel in order to avoid distractions, including:
Texting

Making phone calls

Having conversations
Eating

Using a GPS or electronic device

Adjusting the radio
Wear a Seat Belt
In Utah, all passengers your car are required to wear a seat belt. If a passenger is 8 or younger, they should be restrained in a car seat.
Wearing a seat belt can protect you and your passengers if you are involved in a crash with a semi-truck. Seat belts are most effective in reducing the risk of sustaining an injury or death according to the Centers for Disease Control and Prevention (CDC).
Semi-Truck Crashes in Utah
Every year, semi truck accidents cause victims to suffer severe injuries. These injuries can result in permanent disfigurement and even death. There are 15.5 million trucks out on American roadways every year. Annually, these vehicles kill thousands. These accidents leave families alone and afraid. In some cases, they are able to partner with Utah wrongful death attorneys in order to cover damages related to the accident. We can help you get back the compensation you deserve for medical costs, lost income, and your pain and suffering.
At Siegfried & Jensen, our qualified Salt Lake City semi-truck accident attorneys have been helping the people of Utah for over 30 years. We have helped families recover millions after an accident in order to get their lives back on track. We believe in holding at-fault parties responsible today. Contact us today at (801) 845-9000 to discuss your claim with an experienced professional and to see how we can help you.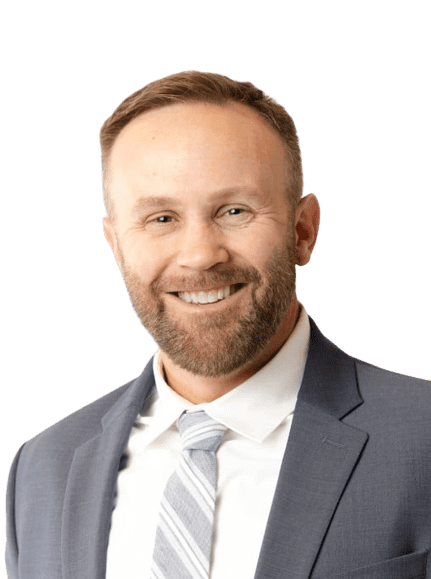 Content checked by personal injury attorney Todd Bradford. I worked for a small law firm in Utah County, where I handled various types of cases. My main focus was personal injury and I decided that is what I enjoyed doing the most. I rejoined Siegfried and Jensen in 2012 where my focus is solely on helping personal injury clients. I take pride in helping personal injury clients and enjoy serving them. If you need an attorney for auto accidents or injuries of any kind in Salt Lake City, UT, Ogden, UT, Spokane, WA, or Boise, ID, contact us.