Is It Legal to Pull Over Onto the Shoulder of a Highway?
Utah law takes into consideration that people sometimes have to pull over on the highway for many reasons. Essentially, if you are experiencing car trouble or some type of emergency, you are allowed to pull over onto the shoulder of the highway. In certain cases, that is the purpose of the highway shoulder. Parking on the shoulder makes sure that the driver is not blocking traffic and is better than just stopping in an active lane. 
Tips for Stopping on the Highway Shoulder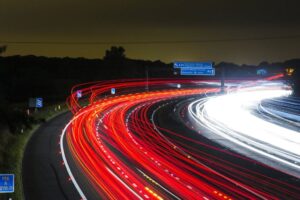 If you are a pedestrian on the shoulder of a highway, it can be very dangerous. Because of this, if it is not an emergency, you should not stop on the shoulder. However, if you are in an emergency, the following tips can help to reduce your chances of being injured.
Take your foot off the accelerator.

When experience issues on the road, never slam your brakes. You don't know if the drivers behind you are paying attention. Instead, gently take your foot off the accelerator. 
Signal your intentions to other drivers.

There is nothing more aggravating than when a driver cuts into your lane. Don't do this to other drivers. If are having an emergency and need to pull over, use your turn signals to warn other drivers of your intentions.
Drive to the nearest exit.

When people have a flat tire, they may want to pull over immediately in order to prevent further damage. However, the deadly risk of being on a highway shoulder is worth the few hundred dollars for repairs.
Pullover to the right side.

In most cases, the right lane is the slowest. Hih speeds hinder reaction time and visibility, so slower is usually safer. 
Pull off the road as far as you can.

It may seem like common sense, but many people fail to follow this rule. Even if the shoulder is wide enough, you should attempt to pull over as far as you can. You should put as much space as you can between your car and the highway. 
Put on the parking brake.

Make sure your barking brake is on to keep your vehicle from rolling in case of a collision. 
Stand on the opposite side of the highway.

If a car does strike your vehicle, you want to be standing on the other side. It is in your favor to stand a couple of hundred feet away from the car. A car driving at a high speed can push a stopped vehicle hundreds of feet. 
Make sure you're visible.

Accidents often happen because drivers don't notice someone is on the side of the road. Flags, flares, and other hazard indicators can make yourself more visible, especially at night.

Call for help immediately. If you don't have the tools to change your tire or speed start your car — call a towing company. Every minute you are on the shoulder, you are at risk. Safety should be your priority, not your car and finances. Also, consider the safety of others who are stopped on the highway when you are driving. Whenever you can, move over to the next lane. 
Keep Up with Car Maintenance to Avoid Shoulder Stops
The best way to avoid pedestrian accidents on the shoulder of a highway is to reduce the chances of needing to pull over. This is especially true during the summer months when people take more frequent and longer road trips. There are vast networks of highways in America. You may find yourself in a situation where you are broken down on the side of the highway without basic car maintenance.
Check your car's coolant.

One of the reasons your car may break down on the highway is due to overheating. The impact of poor coolant maintenance can be devastating and irreversible. Coolant ensures your vehicle runs properly under many conditions. 
Ensure tires are inflated and without punctures. Tires are one of the most important parts of your car. They are the primary line of defense for both safety and vehicle performance. Worn or underinflated tires can be a real issue, causing blowouts on highways and roadways.
Check your brakes.

Brake pads are vulnerable to extreme thermal cycles. Large temperature drops — from heat to freezing temperatures — can cause wear to brake pads. Before hitting the highway, take off your tires to look at your brake pads. Make sure your pads are not crumbling or discolored. Also, checking your brake fluid is crucial. If your brake fluid degrades, it can reduce performance and cause complete brake failure in severe cases.
Transmission fluid.

Cars with an automatic transmission require automatic transmission fluid. Your transmission fluid should be at the recommended level by the manufacturer as well as a bright red. Too much fluid can cause overpressure issues, while too little can damage the torque converter. 
Routine oil changes.

An oil change involves removing old oil from the car's engine and providing fresh oil. This keeps your car lubricated and from absorbing too much heat. Oil lets the internal components to work together without overheating. Changing the oil can reduce the chances of major engine issues.
Check for recalls. Recalls provide safety by addressing failures to meet minimum standards set by the government. Manufacturers will issue voluntary recalls to make sure that safety issues are addressed before they cause severe harm or deaths due to a defect. 
The best measure to avoid risky highway shoulder stops is to keep your car operating optimally. Before you hit the roadways, make sure that you check your vehicle for any issues.
Highway Accidents in Utah
According to the AAA Foundation for Traffic Safety, 12 percent of all interstate highway accidents happen on the shoulder. This means that 600 are killed — and thousands injured — due to shoulder collisions across the United States. Many of these accidents are due to lack of visibility and confused drivers who do not know why a car is pulled over to the side of the road. 
At Siegfried & Jensen, our team of Utah highway shoulder accident lawyers is experienced helping the residents of our great state recover after a collision. We have won millions of dollars in settlements to make sure our clients are able to start fresh after being injured by another driver. Contact our law offices today at 801-845-9000 to put us to work on your case.