No one likes having their routine interrupted, and an accident, be it automobile or motorcycle, is certainly an unwelcome bump in the road. After an accident, you want nothing more than to get back to normal life. You want the accident taken care of, and you want the remuneration you are owed from your accident.
Unfortunately, not all Salt Lake City motorcycle accidents end in the victim receiving the compensation they deserve.
This usually happens because people might not know the intricacies of motorcycle accident laws and don't have the support of Utah lawyers experienced in motorcycle accidents.
Motorcycle accidents are actually very common, and often can be very deadly. Motorcyclists are eight times more likely to be injured in an accident than those driving, and 35 times more likely to be killed in an accident.
This can make recouping any damages and indemnities that you might be owed seem like a daunting one.
However, it is not impossible, if you know how to take the proper steps. The old cliché is that knowledge is power, but that might just be the case when it comes to motorcycle accidents.
Nobody Does the Post-Accident Work For You
You need to be your own best friend and biggest supporter in life, and the same idea applies to motorcycle accidents.
No one will do the leg work essential to ensure that you receive the compensation you deserve after an accident. Unless you follow the necessary steps, your chances of receiving accident reimbursement are drastically reduced.
Unless you are injured in an accident and need immediate medical care, you should do the following as soon as you can:
Call the necessary authorities as soon as possible. The further away in time from the accident, the murkier things could become. Call the police, and get an ambulance on its way, if one is necessary.

Accept any and all medical attention, and go to the hospital in order to accurately document any injuries that you sustained. The longer you wait to see a doctor, the worse it will look in court. A clear, accurate picture of the possible injuries sustained will do you wonders if you must go to trial.

Take any photos and videos that you can. The more clear and accurate the events of the accident are, the easier it is to establish liability and receive the compensation that you might deserve.

Get all of the information you can about the other driver. Get their full name, license plate, insurance information, and anything else you can. This will speed up the legal process as much as possible.

If there are any eyewitnesses nearby, exchange contact information with them. Eyewitness testimony can be huge in a trial, can quite literally close the case.
Don't Call Your Insurance Company Right Away
A business has a certain bottom line they strive to meet, and it's no different for an insurance company. They might not necessarily want you to receive as much compensation as you could receive, and might try to get you to slip up in the retelling of the accident.
That's why, after an accident, you should contact an experienced motorcycle accident lawyer as soon as you can. Getting in contact with them before you talk to your insurer is the best thing you can do for yourself in order to recoup any damages you may have suffered. They know how to handle these situations the best, and how to best avoid the potential pitfalls that await you when dealing with an insurance company and a motorcycle accident.
Motorcycle Medical Payments Insurance & Personal Injury Protection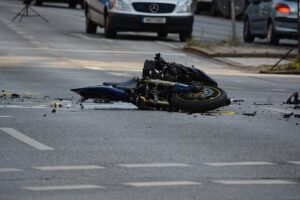 Motorcycle Medical Payments are an uncommon insurance policy, but one that you need to be aware of if you are a motorcycle rider in Utah. It's a policy that covers your medical expenses related to motorcycle accidents and collisions. It even extends to cover you if you were the actual one at fault.
Motorcycle Medical Payments can extend to health insurance deductibles, prescriptions, even dental care.
It has one caveat – it does not cover the other party in the accident or their medical expenses. It does, however, cover the person riding the motorcycle with you.
Another option to consider is Personal Injury Protection, also known as PIP. PIP, as well, covers drivers, motorcyclists or otherwise, regardless of who is at fault in the accident. PIP covers a wide variety of damages, including medical bills and hospital stays, lost wages, childcare, and even funeral expenses.
Although no one insurance policy is perfect, it's important to know the available options if you are a frequent motorcycle rider.
You Are Entitled To Compensation Even if You Are At Fault
Motorcyclists get in a lot of accidents; driving a motorcycle is considered an "assumed risk" by some insurance companies. One might assume that if you get in an accident while riding a motorcycle, you might just be out of luck, especially if you were the one at fault.
Luckily, the state of Utah follows a Comparative Negligence Policy when handling accidents. Comparative Negligence means that in a trial, the culpability of each person involved is determined via a percentage. If your fault in the accident is deemed less than 50%, meaning that it was at least mostly not your fault, then you are still eligible to receive some of the money you are owed in damages.
Get the Help You Deserve In Utah
You are at risk of an accident anytime you get onto the road, whether it's in a car or while riding a motorcycle. Even if you are the one at fault in the accident, it's important to know the options that are available to you, and the proper steps forward to take.
That's why it's so vital to get in contact with Siegfried & Jensen today, as they have the legal experience in motorcycle accidents that can get you the compensation you might be owed.